Hey, you're new here! I love new people, welcome.
You may want to subscribe to IELTS-Blog and get all the updates via email or via RSS feed. Thanks for visiting!
Two IELTS test takers (thanks, V and B!) shared the writing and speaking questions from a recent IELTS exam. The topics apparently were the same in Serbia and India.
Writing test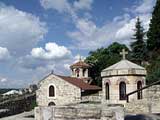 Writing task 1 (a letter)
You want to learn a foreign language for work purposes from a teacher in your locality. Write a letter to him/her and say
- Explain the reason for learning.
- How will it help with your work?
- Ask a few details about the course.
- How did you hear about him/her?
Writing Task 2 (an essay)
In some countries flights have become much cheaper compared to other forms of transportation. Some people think this is a good development, while others are concerned about this situation. Discuss both views and include your own opinion.
Speaking test
Interview
- What is your full name?
- Can I see your ID?
- Where are you from?
- Where is this place?
- Is it a place where your parents were born?
- Is it a good place to grow up in? Why?
- Do you like to write letters?
- Do you consider your handwriting to be clear?
- Do you like to receive letters?
- Do you work or study?
- Do you like your job? Why?
- Is it easy to find a job in your country?
- Do you think there is a difference between working conditions now and in the past?
Cue Card 1
Describe something you have worked on that was a total waste of time. Please say
- What was it?
- When and where did it take place?
- Why do you think it was a waste of time?
Cue Card 2
Describe a job that is very important in your country. Please say
- Why do you think it is important?
- What is needed to be able to do this job?
- Why do you think it is important to have such people in the country?
Discussion
- What age is suitable for young people to start working a full time job?
- Are there many young people who decide not to study after they finish high school in your country?
- Why do you think it is happening?
- How can young people be motivated to do their job better?
- Do you think that money aspect is important when looking for a job?
Get a self study book, for Academic click here, for General here.

Subscribe to IELTS-Blog.com via RSS or via email