Our kind subscriber N.O. took the IELTS test in Ghana a couple of days ago and remembered the following Speaking questions:
Speaking test
Part 1 (Interview)
– What is your full name?
– Do you work or study?
– Do you like your work?
– What would you change about your work if you had a chance?
– Do you go to libraries often?
– When was the last time you went to the library?
– Would you work in a library if you were offered a job there? Why or why not?
– Do children still visit libraries these days? Why or why not?
We previously posted model answers for similar questions here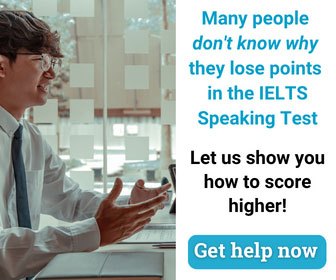 Part 2 (Cue Card)
Describe an interesting old person you met. You should say
– who the person is
– when you met him/her
– where you met him/her
– and explain why you think he/she is interesting.
Read a model answer on the VIP Club website
Part 3 (Discussion)
– Do young and older people have an interest in the same things?
– What can older people teach children?
– Is it good for young people to be around older people?
– What benefits can young people derive from communication with older people?
– How can older people help young people make better decisions?
– Is there something older people can learn from young people?
Read model answers for similar questions on the VIP Club website