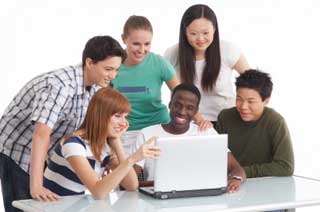 This online course is responsible for a whole generation of IELTS high scorers. Most of them started with zero insight into IELTS and a very busy life, which didn't allow them to sign up for face-to-face tutoring.
Apart from the proven record of success, it's also no secret that money played a big role in their decision to join this online course - not everyone can afford to pay $300 a week for exam preparation, even if your whole life depends on getting the right band score.
These simple, straightforward lessons and exercises have proven to put students from all over the world on the fast track toward an impressive IELTS result.
Best part? You get to check everything for yourself without risking a penny - as long as you act fast.

From: Simone Braverman
Founder of IELTS-Blog.com

Hi there,

In my years of helping people to pass their IELTS exams, I've learned what works, what doesn't, and why. And here is the most important thing you should know:

Any busy IELTS test taker needs their preparation to be

Easy to understand and follow

Stress-free and

Wickedly effective


And this course ticks all boxes. Why?


Here are 12 Reasons Why This Course Will Help You Achieve Success In IELTS:


It's a complete, all-inclusive, IELTS learning system - no need to search for any more study aids, have everything in one place, all you need to prepare and successfully pass your exam.

There are 15 full length practice tests. Instead of just one attempt, you get many, which will allow you to get better from one test to the next.

Thanks to over 350 video lessons with transcripts you will have access to your own private real teacher, who will not just test you - but teach you all the IELTS skills you need for a high score. You can study any time, day or night, at your pace.

If you prefer watching the video and listening - fine, but if not - you can watch the video and read the captions underneath it, to make sure you understand everything 100% . Just watching the videos alone, without even thinking about what they teach you, will help you get better at listening - whether you want it, or not!

If you're thinking that you are studying without a tutor, that there's nobody overseeing your progress, this is not so. At the end of each lesson there are tests to check your understanding of the material - that way missing something in the lesson, misunderstanding or getting something wrong is simply NOT an option.

These courses were voted by students as the most informative and effective online, which means that you will be getting the best preparation there is. Your time will be well-spent, not a minute of it will be wasted. If there is a shortcut to a high score, THIS IS IT.

You will hear many native English speakers, who will speak in a variety of accents. This is very important, because Australian accent is different from the British accent and from that of New Zealand. It is crucial that you get comfortable with all of them, otherwise it is easy to get lost in the stream of words. Teachers who have been helping students with IELTS preparation for decades KNOW that - and now you do too.

These courses were put together by people with decades of experience in teaching IELTS skills, and such experience is the best partner you could ever get on your side.

What do I mean? Everyone knows that using someone else's experience is THE BEST SHORTCUT EVER. Experience means that they've seen all the mistakes people are likely to make - and know how to prevent that from happening, they know the right way to explain things so that you'll understand them easily, how to make your preparation as easy as possible - but just as efficient as it can ever be.

There is a special section to enrich your vocabulary. It won't teach you just any words - but the words that you should use in IELTS to make a good impression on your examiner. And on top of showing you these new words, it will also teach you how to use them in a sentence - to make sure you can actually use that word correctly in your exam.

There is a grammar section - which means that you don't need to buy a grammar book and read it cover to cover. Don't spend a second learning anything complicated that you will never use - grammar section is your shortcut, it will give you just the necessary rules and knowledge for your IELTS needs, without wasting any of your time.

These courses come with a complete study plan. Why do you care? Because you probably are busy, and busy people plan their time. Study plan will give you the peace of mind in knowing that you will be prepared by the end of the month, and it will help you schedule your preparation sessions, fit them in your week, to avoid that freezing scary feeling of "It's just 2 weeks before my test and I haven't done anything yet!".

And last but not least - you are NOT flying solo. Even though these courses are designed for you to study any time you want, for as long as you want, you have full access to teachers. If you have any questions, if there is anything you need to discuss related to your IELTS preparation, the teachers are literally one message away. Using the message panel - just like you use any of your favourite chats - you can ask teachers a question and expect a friendly answer soon.

OK, so by now you've learned that in this course you will get a top class, professionally created (by IELTS examiners), thoroughly tested, highest quality preparation materials that produce great results - or your money back.


Who else wants some free samples?

Everyone knows the proverb "Don't judge a book by its cover". Have a look inside at the practice tests and see for yourself what you will be getting. Click on the links below to try a few free practice tests, before you join as a member and unlock access to many more:

With a learning system of this quality, no wonder students are happy to recommend this course to their friends!

Unbelievable results! "Thank you very much for the course which helped me with getting unbelievable results - listening 8, reading 7.5, writing 7 and speaking 8."

- Alex I

All you need to be successful in IELTS "I have never seen such informative, interactive and useful information ... all you need to be a successful candidate in your IELTS test."

- Taravat M

The best materials I have ever used.

"I have read the speaking and writing online courses and I am convinced that they are the best materials I have ever used. ( I have practiced at least 5-6 different IELTS preparation books but none is so informative as your courses)."

- Emily Y

The right technique "This course taught me the right technique to attempt the exam which I believe is the most important aspect of these kind of exams. Thanks once again."

- Ashraf M

I got higher IELTS scores than I needed! "I'm glad to tell you that I got higher IELTS scores than I needed! Many thanks again for all your support. You can add me to your list of successful pupils!"

- Sergio D

The perfect tool to get prepared for the exam.

"I would like to thank you for the perfect tool to get prepared for the exam. Your tips helped me a lot with completing all the sections. The lessons for the Writing section actually taught me to write a comprehensive essay - the skill I never was able to master.

I found your course to be very helpful and worth every cent paid for it. Thanks a lot!"

- Anna N

I highly recommend this website "Without your help I would never have got the score I needed. I highly recommend this website to all IELTS students."

- Yassire E

The teaching method is fantastic and my English has improved in every way.

"I am really enjoying the course - the teaching method is fantastic and my English has improved in every way. I am learning different skills every time!

I am also amazed at how quick you respond when I have a problem and you always offer a good solution so thank you very much."

- Shazia B

Much more helpful than any other courses "My overall band is 8 - thanks again for your invaluable help... the feedback from you is much more helpful than any other courses."

- Anne F

My listening has improved by 1.5 bands "My listening has improved by 1.5 bands and writing has improved by 1 band! It was really great to use your tips."

- Muhammad I
Join now and get a 24 hour money back guarantee
I know you've seen the free samples already and know what you will be getting. But, to help you feel absolutely confident about your purchase, I am offering you a 24 hour money back guarantee.
If, for any reason, you are not happy with this course, simply let me know - and your money will be refunded, no questions asked.
And here are the 2 course types you can choose from: Speed and Master.
To begin your course, choose from the table below, click on a Join Now button, fill the form and as soon as your credit card payment is approved (which only takes a moment) you will receive instructions how to access your course, via email.
Payments are 100% secure and made through the best-guarded servers to ensure Credit Card Data Security, encrypted transaction processing and world-class global fraud protection.
| | | |
| --- | --- | --- |
| Course Type | Master | Speed |
| Days of access | | |
| Complete practice tests | | |
| Learning videos | | |
| Additional lessons (grammar and vocabulary) | | |
| Essential IELTS vocabulary course | | |
| Email support from your tutor | | |
| Access to discussion forum | | |
| Writing graded, Task 1 & Task 2 | | |
| Live speaking assessment with feedback | | |
| 7 eBooks to download and keep (with audio files!) | | |
| | | |



Right now we also accept payments via bank transfer, Western Union or MoneyGram - send an email to info@ielts-blog.com to get detailed instructions how to pay.

This course is the kind of IELTS help you have been searching for. The search is over, and your time to act begins ... NOW.

To Your Excellent Score and Bright Future,



Simone Braverman
Founder of IELTS-Blog.com
Author of "Ace the IELTS" and "Target Band 7"
Band 7 in my first attempt - I am delighted!

"I am glad to inform you that I obtained an overall of 7.0 in IELTS General examination (Listening 8.0, Speaking 7.0, Writing 6.5, Reading 6.5, OVERALL 7.0).

Your lessons and exercises were really beneficial to boost my knowledge and it was my first attempt - I am delighted!"

- Chaminda H