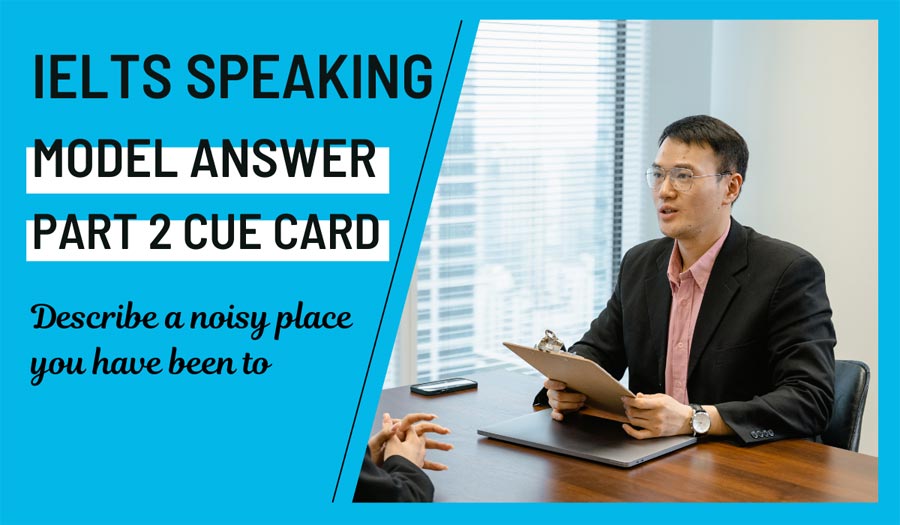 Here is a high-scoring Speaking Test Part 2 model answer for the cue card that was shared by a student from Egypt. The answer shows a good way to respond to this question. You can find the answers in the other parts here: Part 1, Part 3.
NEW! In this podcast episode you can LISTEN to the answer. It's great to improve your pronunciation, intonation and overall fluency!
Start listening to Part 2 from time mark 02:18

Or you can listen on YouTube (turn subtitles on):
Speaking test
Part 2 (Cue Card)
Describe a noisy place you have been to. You should say
– where it was
– why you went there
– why it was noisy
and explain how you felt about being there.
Answer
Well, I actually have been to a very noisy place recently! I went to a concert at the city park. I'd heard about the upcoming performance from friends, and we were all really excited to go, so I got us tickets as soon as they were available. Everyone was looking forward to experiencing the atmosphere of one of the city's iconic venues.
We were expecting an amazing night, but it was so much more than that! The place was crowded with people who couldn't wait to see the show. As soon as the opening act started performing, it got incredibly loud! The bass was shaking the entire place down, and there were thousands of people screaming and singing along! It was a truly unique experience, one that I'll never forget.
The noise level reached its peak when the headliner came on stage; you could feel the energy in the air! The screams and cheers of excitement seemed endless as everyone sang along to every song! It was definitely a fun atmosphere, although it was also quite overwhelming at times, especially because of how loud it was.
Overall, it was an incredible experience. Despite feeling slightly overpowered by all of the noise, I enjoyed every moment of it! It's something that will definitely stay with me forever.
Read more model answers on the VIP Club website