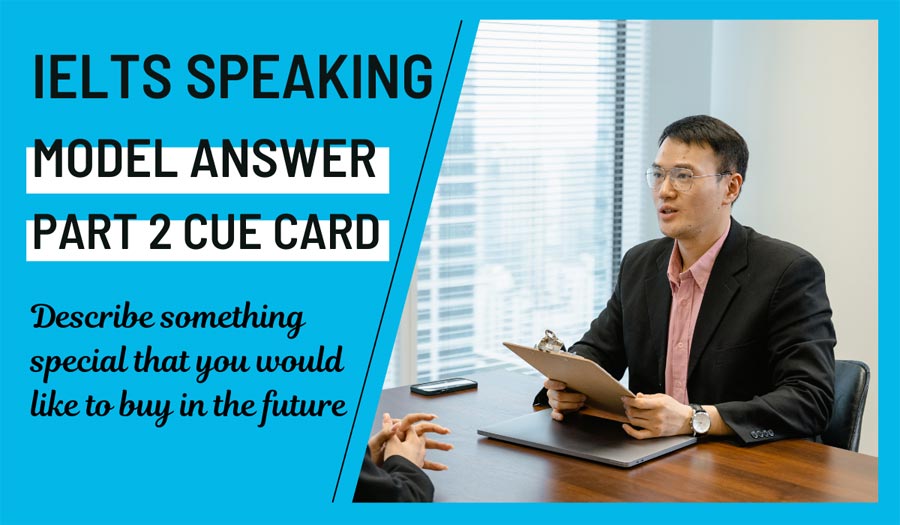 Here is a high-scoring Speaking Test Part 2 model answer for the cue card that was shared by a student from Azerbaijan. The answer shows a good way to respond to this question. You can find the answers in the other parts here: Part 1, Part 3.
NEW! In this podcast episode you can LISTEN to the answer. It's great to improve your pronunciation, intonation and overall fluency!
Start listening to Part 2 from time mark 02:30

Or you can listen on YouTube (turn subtitles on):
Speaking test
Part 2 (Cue Card)
Talk about something special that you would like to buy in the future. You should say
– what it is
– what it looks like
– when you intend to buy it
– and explain why you would like to buy it.
Answer
My dream is to buy a custom-made electric guitar in the future. It's an expensive purchase and I have been saving up for quite a while. It would have a sleek, curved body made of mahogany wood with a sunburst finish. The hardware of the guitar would be gold-plated, and it would be equipped with two humbucker pickups that offer an incredibly versatile tone range. I plan to buy this guitar within the next year or two, as I feel that having my own customised instrument would help me to take my musical ambitions to the next level.
Music and playing an instrument is something that runs in my family. Some of my earliest memories are of my dad playing his acoustic guitar while we all sang as a family. And while I do enjoy strumming on a simple acoustic guitar, the moment I first picked up an electric guitar and heard its distinct sound, I knew I wanted to explore its unique sound further. Since then, I have been dedicated to improving my skills and expanding my knowledge of different genres and techniques.
Having my own custom-made electric guitar would provide me with an opportunity to really express myself creatively on the instrument, as well as refine my technical abilities by testing out new sounds and improvisational ideas. I know that this guitar would become a keepsake for me even long after my musical journey has ended. It would be a reminder of the drive and passion that pushed me towards achieving something special, and I would love to pass it on to my children one day.
Read more model answers on the VIP Club website