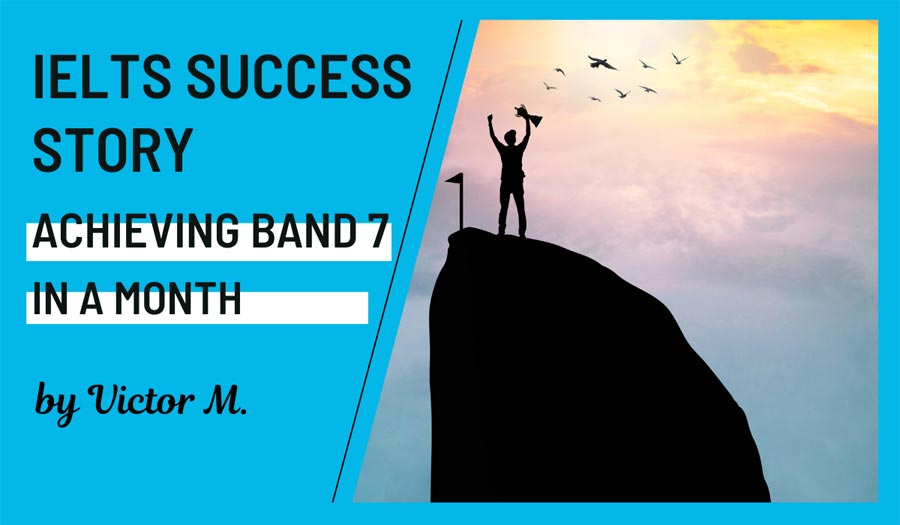 This post is dedicated to the smashing success of our wonderful VIP Club Member, Victor, who soared to an impressive Band 7 in his IELTS exam.
Background
Victor is an aspiring migrant to Australia from Peru and a native Spanish speaker. He embarked on his IELTS preparation journey with a clear goal: to achieve a Band 7 score and get a visa to Australia. His journey led him to our IELTS Online Prep platform, where he found the resources and support he needed to succeed.
Challenge
Victor needed a comprehensive preparation strategy that would not only familiarise him with the IELTS format but also enhance his skills in all four components of the test. With a particular focus on speaking and writing, he looked for resources that offered practical, exam-like experience.
Solution
As soon as he discovered our website, Victor immediately joined as a VIP Club member and got access to our range of mock tests, finding them remarkably similar to the actual IELTS exam. This realistic practice was crucial in building his confidence and test-taking skills.
Victor expressed his appreciation, saying, "Your website has fantastic mock tests to practice, and I engaged immediately after checking it out."
Key aspects of our platform that Victor found invaluable included:
Model Answers on the VIP Club Website: "I found the model answers on the VIP Club website very useful, with relevant examples for both the writing and speaking sections with great vocabulary," Victor noted. These resources provided him with high-quality examples, incorporating relevant content and advanced vocabulary.
Mock Tests: "The mock tests on the IELTS Online Prep platform were 100% similar to the real IELTS test, and this was the most valuable part for me," Victor shared. These tests were instrumental in his preparation, helping him understand the test format and time management.
IELTS-Blog App: Victor found this tool particularly helpful for speaking practice, describing it as "very friendly and straightforward."
Outcome
Victor's dedicated preparation culminated in him taking the IELTS test in October. Despite feeling nervous, especially in the speaking section, he achieved an impressive overall band score of 7. His lowest band was 6.5 in speaking, which he attributes to exam-day nerves, because his performance in the mock test was much, much better.
Feedback and Acknowledgment
Victor extends his gratitude to our team, especially teacher Camden, for providing detailed and constructive feedback on his speaking mock tests. He credits the success of his IELTS journey to the comprehensive resources and support provided by our platform, saying, "I couldn't have made it without reading and practicing on your website."
Conclusion
Victor's story proves yet again how effective your IELTS preparation becomes with the right guidance and resources. His achievement of Band 7 not only marks a significant milestone in his migration journey but also serves as an inspiration to other IELTS test takers. We are proud to have played a part in Victor's success and wish him all the best in his future endeavours in Australia.
Congratulations on your amazing Band 7, Victor!