Ask anyone who tried to raise their IELTS score from 6 to 7, and they will tell you it's not that easy. The reason why is simple: it's hard to improve when you don't know your mistakes.
To improve, you need to know what you're doing wrong, learn how to do it right, and then practice in doing it the right way until it becomes second nature to you.
This is how Anshika achieved success in IELTS and raised her Writing score from Band 6 to Band 7 in less than a month.
Who is Anshika? A lovely young lady with a dream to emigrate from India to Australia or Canada. To make her dream come true, she had to take the IELTS test – and this is how we met.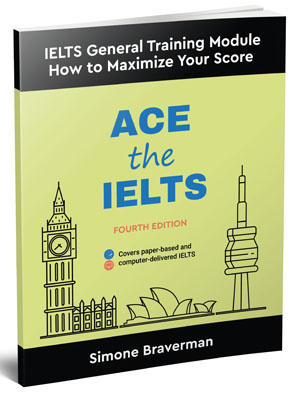 Anshika bought the book 'Ace the IELTS' four weeks before her second IELTS exam. Her main worry in IELTS was Writing – in her first exam she only got Band 6, despite scoring Band 7.5 or higher in Speaking, Reading and Listening.
Anshika didn't have the luxury of time – there was less than a month left to prepare before her second test, and she also needed a significant improvement in her Writing score. You could say she was highly motivated to maximize her score in a very short time!
And that is exactly what happened. The templates and suggestions in the book helped Anshika fine-tune her writing, and our writing correction team provided feedback on her written responses. This process uncovered some problems that Anshika was then able to fix and, as her writing improved, her confidence grew as well. Anshika followed the study plan in 'Ace the IELTS' for 21 days and on the test day felt that she did well.
After the test Anshika anxiously waited for the results. The two weeks stretched like two months, but finally… an email from Anshika arrived:
"I wanted to inform you that I have received my IELTS score – listening 8, reading 7, writing 7, speaking 7.5.
I was particularly nervous about writing, it was the best 7 of my life.
Thank you so much for your guidance and books. Essay correction service and sample essays helped me to achieve my desired score. "
It's emails like this that bring us absolute joy. Congratulations, Anshika, on achieving IELTS Band 7.5! Everyone at IELTS-Blog.com is SO HAPPY for you!
If you're on Instagram, join us in celebrating Anshika's achievement. Who knows, the hero of our next success story could be YOU!