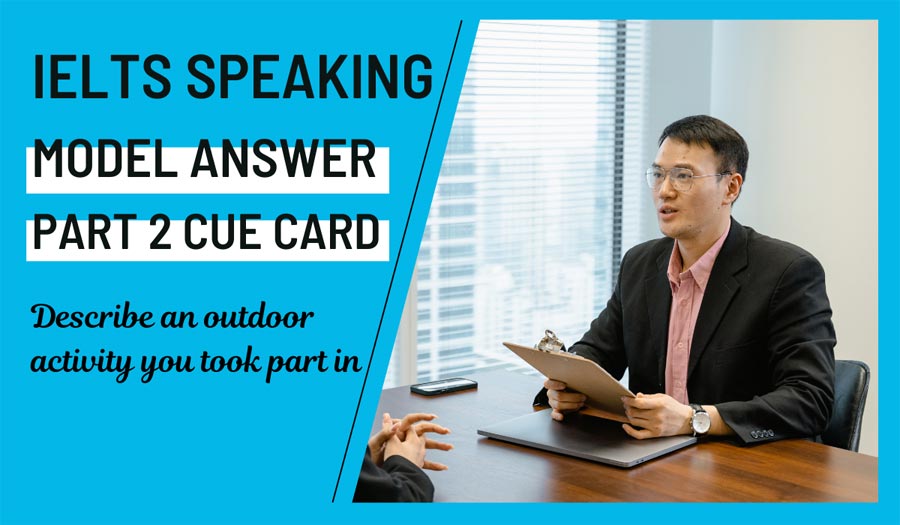 Here is a high-scoring Speaking Test Part 2 model answer for the cue card that was shared by a student from India. The answer shows a good way to respond to this question. You can find the answers in the other parts here: Part 1, Part 3.
NEW! In this podcast episode you can LISTEN to the answer. It's great to improve your pronunciation, intonation and overall fluency!
Start listening to Part 2 from time mark 03:01

Or you can listen on YouTube (turn subtitles on):
Speaking test
Part 2 (Cue Card)
Describe an outdoor activity that you took part in. You should say
– what activity it was
– when you did it
– where you did it
and explain whether you liked it or not, and why.
Answer
Thinking back, one of the most memorable outdoor activities that I took part in was hiking the Inca Trail to Machu Picchu in Peru. It was certainly a bucket list experience that required careful planning and preparation, but the payoff was well worth it.
I embarked on the journey in early September, during the dry season in the Andes. As I trekked through the rugged terrain, I was constantly in awe of the natural beauty surrounding me. From snow-capped mountains to lush forests, every step offered a new vista to behold.
The Inca Trail spans over 26 miles and is an intense undertaking that took us four days to complete. I hiked with a small group of travellers and we camped out each night, sharing stories and bonding over the incredible adventure we were on.
The highlight of the hike came on the fourth day, when we finally reached the Sun Gate and saw Machu Picchu for the first time. The anticipation made the moment even more exhilarating, and I couldn't help but feel grateful for the amazing experience.
While the hike was undeniably challenging, the rewards were infinite. The sense of accomplishment I felt upon completing the Inca Trail was one of the most fulfilling emotions I've ever experienced. The jaw-dropping landscape, the physical exertion, and the cultural significance of the journey all came together to create an unforgettable experience. I would definitely do it all over again!
Read more model answers on the VIP Club website