The topics below were shared by E, who recently took an IELTS exam in Iran.
Listening test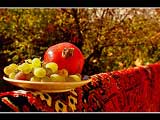 Section 1. A student was registering at the university.
Questions: filling in blanks.
Section 2. A tour guide was leading tourists through the island.
Questions: multiple choice, information matching.
Section 3. How light pollution affects wild animals.
Questions: information matching, multiple choice.
Section 4. Description of making an imaginary airport.
Questions: filling in blanks.
Reading test
Passage 1. The history of the tea.
Questions: True/False/Not Given and matching of the scientists names.
Passage 2,3 and 4. Don't remember.
Writing test
Writing task 1 (a letter)
You want to rent out one of the rooms of your apartment. Write a letter to the accommodation officer of a nearest college and say
– What does the room look like?
– What kind of student would you prefer?
Writing Task 2 (an essay)
Nowadays people prefer to follow sports events on TV rather than take part in sports themselves. Do you think this is a positive or a negative development?