Hey, you're new here! I love new people, welcome.
You may want to subscribe to IELTS-Blog and get all the updates via email or via RSS feed. Thanks for visiting!
Our kind friend P has shared the Speaking questions from his IELTS exam in Iran:
Speaking test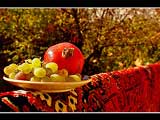 Interview
- Please tell me your full name.
- Where are you from, a city, a village or a town?
- Is it a good place for living?
- Is it a good place for young people?
- When was the first time you used the Internet?
- Is the information from the internet trustworthy?
- What was your hobby when you were a child?
Cue Card
Describe an important event in your life. Please say
- When did it happen?
- What was the event?
- Did it have an effect on your life?
Discussion
- Talk about changes that took place recently at your job.
- Did you notice any changes in the society recently?
- What is the reaction of people to these changes?
- What is the difference in reaction of young and old people to these changes?

Related posts:
Get a self study book, for Academic click here, for General here.

Subscribe to IELTS-Blog.com via RSS or via email