Two IELTS test takers from India and Kenya (thanks, M and O!) had apparently identical questions in the writing test. Here are the details they remembered:
Writing test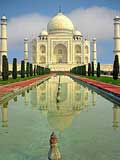 Writing task 1 (a report)
We were given a line graph that was showing information about the use of renewable energy in six different countries from 1976 to 2006.
Writing task 2 (an essay)
The best way to reduce poverty in developing countries is by giving up to 6 years of free education to children, so that they can at least read, write and use numbers. To what extent do you agree or disagree with the statement?
Speaking test
Interview
– What is your full name?
– Can I see your ID?
– Where are you from?
– Do you work or study?
– Why did you choose this subject?
– Do you prefer to study individually or in a group?
– How do people usually show their happiness?
Cue Card 1
Describe a skill that you learnt in your childhood. Please say
– What is it?
– How did you learn it?
– Do you still use it?
Cue Card 2
Describe a favorite toy that you had in your childhood. Please say
– What was it?
– Who gave it to you and when?
– Do you still have it?
Discussion
– What is the difference between toys 20 years ago and now?
– What toys do children prefer these days?
Get a self study book, for Academic click here, for General here.
Subscribe to IELTS-Blog.com via RSS or via email