These writing and speaking questions were contributed by T (thank you!) who took the IELTS test in China:
Writing test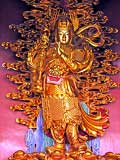 Writing task 1 (a letter)
You are interested in a short course in a certain college. Write a letter to that college and say
– What course are you interested in? Why?
– State your education background and practical experience.
– What do you like about the college?
Writing Task 2 (an essay)
Some people think that international competitive sports such as football bring conflict between people of different age groups and nationalities. Others think sport is helping reach understanding between people and nations. Discuss both views and give your opinion.
Speaking test
Interview
– What is your full name?
– Can I see your ID?
– Where are you from?
– Do you work or study?
Cue Card
Describe a situation when you were talking to complete strangers. Please say
– Where did you meet them?
– What were you talking about? Why?
– How did you feel after this?
Discussion
– What could be the reason for people to start a conversation with a stranger?
– Do you like to start a conversation with strangers?
– How often do you do that?
– What is the advantage of network communication, for example through Facebook or Twitter?
Get a self study book, for Academic click here, for General here.
Subscribe to IELTS-Blog.com via RSS or via email