The speaking questions below were shared by S who recently had his IELTS exam.
Speaking test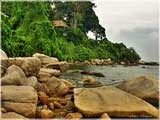 Interview
– Do you study or work?
– Did you need training for your job?
– Do you like shopping for clothes? Why?
– Do you plan to buy any designers clothes? Why?
Cue Card
Describe an interesting culture you learned about. Please say
– What culture was it?
– Where did you learn about it?
– Why are you interested in it?
Discussion
– Can learning about a culture help us to learn the language better?
– Do you think traveling to a country will help us to learn its culture?
– Is it easier to learn a culture now than in the past?