This is what our friend A. from Sydney, Australia has told us about his IELTS exam – thanks, A!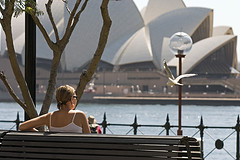 Listening
I donít remember much about the Listening and the Reading sections, except that it was as we normally practiced, nothing special.
Writing
Task 1 (Letter)
Write a letter to a friend you met on a trip and ask him to send you some photographs of that trip
Task 2 (Essay)
Do you think that children should be given freedom to do whatever they want or parents should impose restriction on them? Discuss both sides and present your opinion.

Speaking
Interview
General questions
Card
Describe a book youíve recently read
Discussion
Questions about birthday, books, museums
Get a self study book, for Academic click here, for General here.
Subscribe to IELTS-Blog.com via RSS or via email