Today I am happy to announce the 12 winners who achieved the best IELTS results in November. Getting the score of your dreams is the ultimate best reward, isn't it? Without any further introduction I give you the people with the highest scores:
Academic Module – 1st place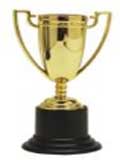 Adrei Florea from Romania, Band 8.5
Saptarshi Sanyal from India, Band 8.5
Academic Module – 2nd place
Shabnam Saadat from Iran, Band 8
Mihaela Druga from Romania, Band 8
Farzad Rashidi from Iran, Band 8
Cindy Akpaenyi from Nigeria, Band 8
Annisa Rahmani Qastarin from Indonesia, Band 8
Academic Module – 3rd place
Mrugen Adevadia from India, Band 7.5
Berly Jacob from India, Band 7.5
Sayma Monir from Bangladesh, Band 7.5
General Training Module – 1st place
Meybel Martirez from the Philippines, Band 8
General Training Module – 2nd place
Lin Dong from China, Band 7.5
On behalf of the whole IELTS-Blog team I would like to congratulate the winners. You all have done a terrific job, and your success is a source of inspiration for many other test-takers, going through their IELTS books right now.
According to our tradition, the winners' special certificates are being sent to their emails, and their names are joining the IELTS-Blog hall of fame.
If you're wondering how these people were able to score so well, here's what we know:
Shabnam Saadat was using the tips from IELTS-Blog.com, and had her writing tasks checked by English teachers
Mihaela Druga was visiting IELTS-Blog.com to get the latest exam topics for exam preparation
Lin Dong used "Ace the IELTS" book and had writing tasks checked by IELTS-Blog writing correction team
Meybel Martirez was using IELTS-Blog.com extensively in the exam preparation
But of course the best way to learn how our winners achieved these great results is to ask them 🙂 That's why we are hoping the winners will write back and share their methods of preparation, tips and advice.
So, dear winners – don't be shy, please reply and we promise to share your tips with the whole world.
P.S. Our competition runs every month, and everyone is welcome to participate. Learn how to enroll here.