Can you believe it's December already? The New Year is less than a month away, and right now, we are creating the future. The things we're doing now are shaping up our 2023. Guess who's already written a big chapter of their life next year? Six determined people that worked really hard to get the IELTS scores they need for 2023. Congratulations to…
IELTS results competition winners of November 2022
Academic Module
1st place – Seleena Jacob from India, Band 7.5
2nd place – Dhruvilkumar Ashokbhai from India, Band 7
General Training Module
1st place – Ahmed Khaled Elhodaiby from Egypt, Band 8
1st place – Kimberly Lu Lim from the Philippines, Band 8
2nd place – Noha Hassan Elsayed Atia from UAE, Band 7.5
3rd place – Ashkan Rajabi Seif Abad from Iran, Band 7
These are some impressive scores! To mark this happy day we are sending our winners their certificates of achievement via email. We are also adding the winning IELTS results to the IELTS-Blog hall of fame – so please feel free to show them off to your friends!
How did they score so well?
It feels amazing to see our student take the first place!
Ahmed used the book Ace the IELTS and our practice tests in his exam preparation. After receiving his IELTS score, was really happy – this email says it all:
"Hi Simone, I hope you had a great day.
I just got my results and I wanted to share the good news with you, I got band 8 overall (Listening 8.5, Reading 9.0, Writing 7.0, Speaking 7.5). I really can't express how grateful I am for your support and help, from the bottom of my heart, thank you. Hopefully, I can meet you one day and thank you in person."
Ahmed gives 'Ace the IELTS' and practice tests a very warm recommendation: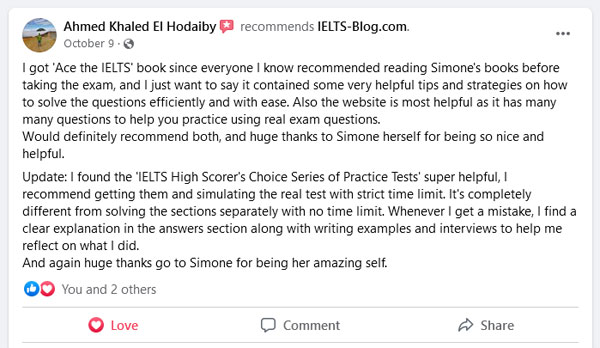 As for the other winners – we would love to hear from you, because when you share your stories and tell us how you studied, you are helping thousands of test takers, preparing for their exams right now. Any useful tips will be posted on IELTS-Blog.com, so that everyone can use the same technique and get a better score in their own exam this month.
Did you know? IELTS results competition runs every month, and everyone is welcome to participate. Learn how to enroll here.