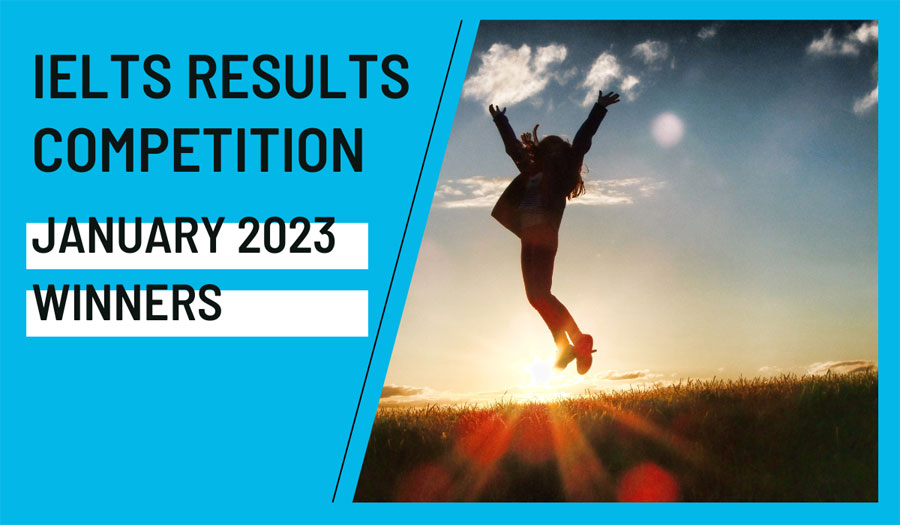 What would IELTS Band 7 mean to you, would it make you happy? How about Band 8, would you be jumping up and down with joy? Today we are celebrating 11 test takers whose hard work was rewarded with an awesome start to the New Year!
The people in this diverse group come from Italy, India, Nigeria, Sri Lanka, Uzbekistan, Romania and Turkey, so it looks like the entire globe will be sparkling with happiness today! Put your hands together and give them a round of applause.
IELTS results competition winners of January 2023
Academic Module
1st place – Loris Zevrain from Italy, Band 8
1st place – Ridhima Chawla from India, Band 8
1st place – Sai Krishna Gupta from India, Band 8
1st place – Anhad Dhiman from India, Band 8
1st place – Precious Omobolaji Oluboyede from Nigeria, Band 8
1st place – Kasthuri Kanagarah from Sri Lanka, Band 8
2nd place – Amirshox Axmedov from Uzbekistan, Band 7.5
2nd place – Preetraj Singh Gujral from India, Band 7.5
3rd place – Iuliana Daraba from Italy, Band 7
General Training Module
1st place – Juliet Mamu-Igbuwe from Nigeria, Band 7.5
1st place – Mustafa Basaran Bozbiyik from Turkey, Band 7
These are some impressive scores! To mark this happy day we are sending our winners their certificates of achievement via email. We are also adding the winning IELTS results to the IELTS-Blog hall of fame – so please feel free to show them off to your friends!
How did they score so well?
It feels amazing to see our student take the first place!
Loris used the book Target Band 7 and our practice tests in his exam preparation and loved them so much that he wrote a 5-star review for every book. After receiving his IELTS score he certainly wasn't disappointed – this email says it all:
"I've already taken the test and got an 8.0! I'm so happy about that, I didn't expect that result. Thank you so much again for helping me."
Another student of ours, Amirshox, took IELTS on computer and prepared for it on our IELTS Online Prep platform, because it provides a very close simulation of the computer-based IELTS, in terms of look and feel, functions, task types and difficulty level. Amirshox was thrilled when he received his IELTS results – Band 7.5 was exactly what he needed!
As for the other winners – we would love to hear from you, because when you share your stories and tell us how you studied, you are helping thousands of test takers, preparing for their exams right now. Any useful tips will be posted on IELTS-Blog.com, so that everyone can use the same technique and get a better score in their own exam this month.
Did you know? IELTS results competition runs every month, and everyone is welcome to participate. Learn how to enroll here.