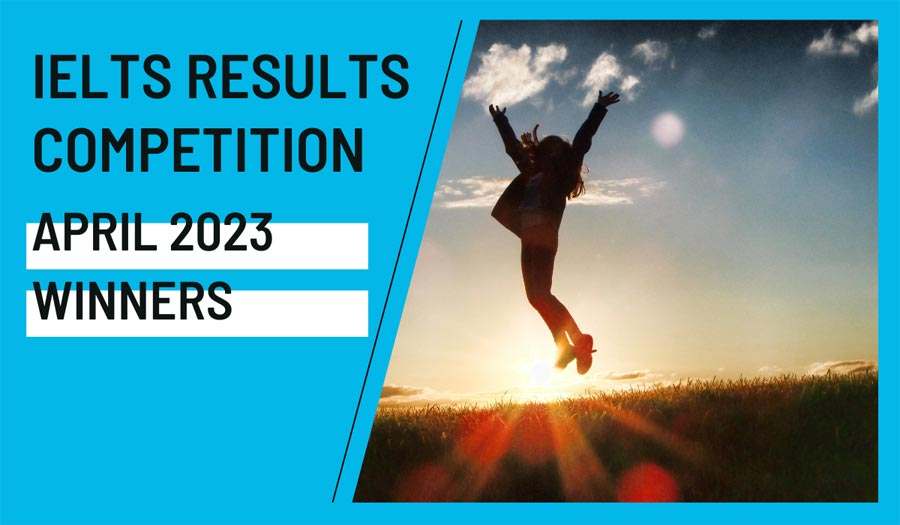 If you are working hard on your IELTS score and you are dreaming about Band 7 or 8, you can appreciate the amount of work that goes into this achievement. Today we are celebrating the success of six dedicated test takers whose efforts were rewarded with amazing scores, ranging from a respectable Band 7 to an admirable Band 8!
The winners of April round come from Iran, Sri Lanka, India, Egypt and Peru. Put your hands together, lets give them a standing ovation!
IELTS results competition winners of April 2023
Academic Module
1st place – Arian Mavedati from Iran, Band 8
2nd place – Gayathri Arachchige from Sri Lanka, Band 7.5
3rd place – Gurbhinder Singh from India, Band 7
General Training Module
1st place – Alan Josy from India, Band 8
2nd place – Mohamed Zahran from Egypt, Band 7.5
2nd place – Cinthya Vargas Chamorro from Peru, Band 7.5
These are some impressive scores! To mark this happy day we are sending our winners their certificates of achievement via email. We are also adding the winning IELTS results to the IELTS-Blog hall of fame – so please feel free to show them off to your friends!
How did they score so well?
All of the winners were subscribed to our daily emails; they were going over the most recent questions and model answers regularly in their preparation for the test. But there must be so much more they can tell us, which is why we have contacted all of them and asked for their best exam tips. As soon as we hear back, their useful advice will be posted on IELTS-Blog.com, so that everyone can use the same techniques and get a better score in their own exam this month.
Did you know? IELTS results competition runs every month, and everyone is welcome to participate. Learn how to enroll here.