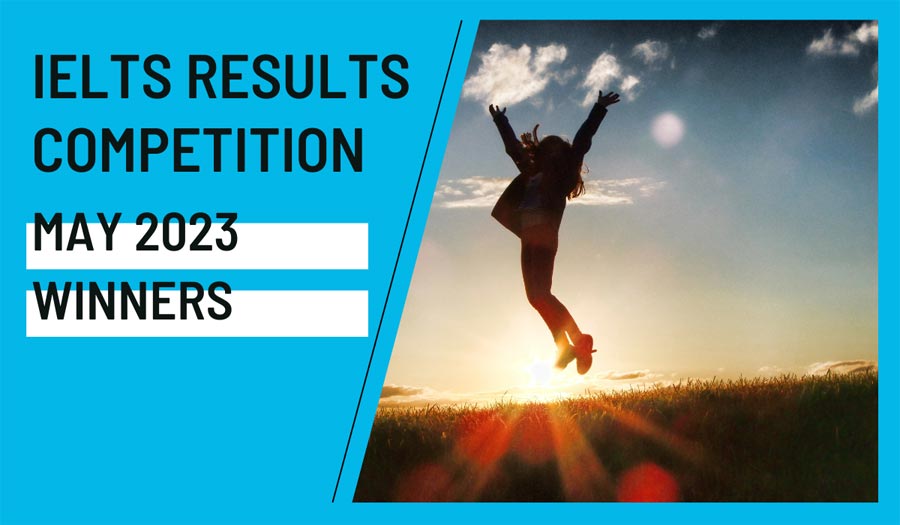 "Success isn't always about greatness. It's about consistency. Consistent hard work leads to success."
I think no one could have said it better than Dwayne 'The Rock' Johnson, and today you are about to see 12 real-life examples of people that prove his point. Their consistent, hard work resulted in really impressive IELTS scores, ranging from Band 7 to 8.5, and quite a few of them even got Band 9 for their Reading and Listening.
Let's give a very warm welcome to …
IELTS results competition winners of May 2023
Academic Module
1st place – Yagiz Ozenci from Turkey, Band 8.5
2nd place – Dinusha Perera from Sri Lanka, Band 8
2nd place – Chloe Cheng from Taiwan, Band 8
3rd place – Yi-Hsuan Lai from Taiwan, Band 7.5
3rd place – Liseli Situmbeko from Zambia, Band 7.5
3rd place – Song Lin Yong from Malaysia, Band 7.5
General Training Module
1st place – Tapan Patel from the USA, Band 8
1st place – Ziaad HussainNuseeb from Mauritius, Band 8
1st place – Goodness Okeke from Nigeria, Band 8
1st place – Divyansh Sharma from India, Band 8
2nd place – Hala Abdelaziz from Egypt, Band 7.5
3rd place – Jalpaben Parmar from India, Band 7
These scores are just fantastic, congratulations everyone! To mark this happy occasion we are sending our winners their certificates of achievement via email. We are also adding the winning IELTS results to the IELTS-Blog hall of fame – so please feel free to show them off to your friends!
How did they score so well?
We're never miss a chance to celebrate when our students win, and this time we've got enough winners to throw a very noisy party 😉
Chloe Cheng (Band 8) is a VIP Club member, she joined a few weeks ago and has been using the IELTS Online Prep platform to prepare for the test. Our writing correction team helped Chloe with her writing tasks and she improved her Listening and Reading considerably using the practice tests on our website. Chloe said, "I think the most important thing is to do mock exams as much as possible. I practiced the ones on your website and I went from 7 to 9 in listening and reading."
Tapan Patel (Band 8) used the book Ace the IELTS and practice tests to prepare. He said, "Your books have helped me a lot, and I will make sure to leave an excellent review, to ensure others use this resource too."
Ziaad Nuseeb (Band 8) solved many of these practice tests while preparing for the real exam, and Yi-Hsuan Lai (Band 7.5) relied on our writing correction service to improve her essays and reports. Almost all of the winners were subscribed to our daily IELTS emails with the latest questions, model answers, tips and advice.
As for the other winners – we would love to hear from you, because when you share your stories and tell us how you studied, you are helping thousands of test takers, preparing for their exams right now. Any useful tips will be posted on IELTS-Blog.com, so everyone can use the same technique and get a better score in their own exam this month.
Did you know? IELTS results competition runs every month, and everyone is welcome to participate. Learn how to enroll here.