The IELTS exam update below was shared by B from Turkey (thank you!). B didn't remember the Listening or the Reading topics.
Writing test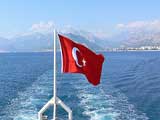 Writing task 1 (a report)
We were given a chart showing some figures for health care in Austria, France and Italy in 1990, 2000 and 2010 . We had to comment on the number of days people spent in a hospital each year, how many beds and doctors were available per 1000 people, etc.
Writing task 2 (an essay)
Some people think that women should take part in the military or the police force, but others oppose to this idea. Discuss both views, give your own opinion and examples.
Speaking test
Interview
– What is your full name?
– Can I see your ID?
– Where are you from?
– Do you work or study?
– What kind of toys did you have in your childhood?
– Do you still have any of your old toys?
– Why do you keep them?
– Why do people use public transport in general?
– Do you think it is a matter of a social status for them?
– Do people in your country use cars a lot?
– Why do you think they use cars?
– Do you think it is a matter of social status for them as well?
– Do you use public transport or car? Why?
Cue Card
Talk about an interesting trip that you took by public transport. Please say
– Where did you go?
– What happened there?
– Did you like that trip?
Discussion
– Do you think governments can and should limit car usage?
– What will people use more in the future: cars or public transport?
Get a self study book, for Academic click here, for General here.
Subscribe to IELTS-Blog.com via RSS or via email