A test taker from the UAE (thanks, M!) shared the following IELTS update:
Listening test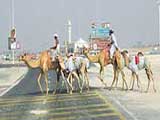 Section 1. A conversation between a job seeker and an employer about a fruit picking job.
Section 2. A speaker talked about various types of ongoing theater plays.
Section 3. Don't remember.
Section 4. A teacher was guiding students about various facilities available on the campus.
Reading test
Passage 1. A discussion about similarities of human beings and chimpanzees.
Passage 2. A text about various famous businesses and their qualities.
Passage 3. A passage explaining how we usually judge people by appearance alone.
Writing test
Writing task 1 (a report)
We were given a bar chart about various methods of waste disposal and showing increase or decrease of the total amount of waste disposed in different years.
Writing task 2 (an essay)
Sometimes people are rejecting a job opportunity due to their age or other circumstances. Is it a negative or a positive approach? Give your opinion and relevant examples.
Speaking test
Interview
– What is your full name?
– Can I see your ID?
– Where are you from?
– Do you work or study?
– Where do you live?
– Is it an apartment or a house?
– Which room do you like the most?
– When did you start using a mobile phone?
– Do you think it is a good thing to have a mobile phone?
– How does it benefit you exactly?
– Do you like paintings?
– Would you buy some paintings for your home?
Cue Card
Talk about something important that you have learnt from someone. Please say
– What was it?
– Whom did you learn it from?
– How do you think it has benefited you?
Discussion
– Do you think learning something new is good?
– Is there any age limit for learning or should there be?
– Do you think kids learn a lot from their parents?
– What are the ways to teach preschool age kids to be ready for school?
– Is teaching teenagers different from teaching little kids?
Get a self study book, for Academic click here, for General here.
Subscribe to IELTS-Blog.com via RSS or via email