An IELTS test taker from the Philippines remembered the following Writing and Speaking questions from a recent exam:
Writing test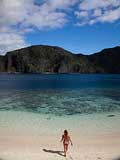 Writing task 1 (a report)
We were given a line graph comparing the number of people in Sydney (Australia) using passenger trains, and the percentage of passenger trains arriving on time, from 1995 to 2004.
Writing task 2 (an essay)
Some people feel unsafe either staying at home or going out. What are the possible reasons for this? What can be done to address this issue?
Speaking test
Interview
– What is your full name?
– Can I see your ID?
– Where are you from?
– Do you work or study?
– What job do you do?
– Do you like your job? Why?
– What responsibilities do you have at work?
– What is the most interesting part of your work? Why?
– How important is your job to you?
– Do you prefer working alone or with others?
– Are you planning to change your job in the future?
– Would you ever consider changing your job?
– How might the industry you work in change in the future?
Cue Card
Talk about a friend who you think is a good leader. Please say
– Describe your friend.
– How did you first meet?
– Explain why you think he/she is a good leader.
Discussion
– How do others behave towards him/her?
– How do people become leaders?
– What do you think are the qualities of a good leader?
– Would you like to be a leader?
– What sort of leader would you like to become?
– Why do some people like to be leaders?
– Do you think society plays a role in forming people's character who later become leaders?
– Do you think some people are born leaders?
Get a self study book, for Academic click here, for General here.
Subscribe to IELTS-Blog.com via RSS or via email