We are grateful to A.R. from Iran who remembered the following questions from a recent IELTS exam:
Writing test
Writing task 1 (a report)
We were given a two-column chart describing the percentages of people per household in the UK.
Writing task 2 (an essay)
In some countries, students are required to study a limited range of subjects from the age of fifteen. In other countries, however, students study a wide range of subjects until they leave school.
What are the benefits of each education system? Which system is better?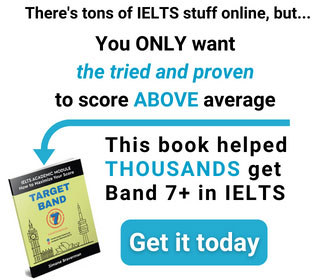 Speaking test
Part 1 (Interview)
– Can you tell me your full name, please?
– Do you work or study?
– What are the benefits of your work?
– At what age did you start learning science?
– Is it important to learn science?
– Is science a difficult subject to learn?
Part 2 (Cue Card)
Talk about a book you have read recently. Please say
– what kind of book it is
– who wrote it
– what it is about
– and explain whether you enjoyed reading it, and why.
Part 3 (Discussion)
– What kind of books are popular in your country?
– What is the difference between the books that older and younger people like?
– Who do you think reads more, boys or girls?
– Is it good for children to read story books?
– Does it help develop their character?
– Why do some people like to read history books?