Our friend K took the IELTS test in Azerbaijan recently and shared the following topics/questions (K didn't remember anything about the Listening part):
Reading test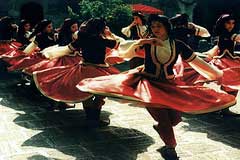 Passage 1. About different varieties of pears and their hybridization.
Passage 2. Discussion about the importance of siblings for children.
Passage 3. About children and their ability to remember numbers.
Writing test
Writing task 1 (a report)
We were given a line graph showing the usage of oil, coal, natural gas and nuclear fuel to produce electricity in the UK between 1990 and 2006.
Writing task 2 (an essay)
Some people believe that professional workers such as doctors and teachers should be paid more than sports and entertainment personalities. To what extent do you agree or disagree? Give your opinion and relevant examples.
Speaking test
Interview
– What is your full name?
– Can I see your ID?
– Where are you from?
– Do you work or study?
– Describe your hometown.
– Let's talk about handwriting.
– How often do you write by hand?
– Do you prefer handwriting or typing on a computer?
– Let's talk about teaching.
– Do you enjoy teaching?
– Have you ever taught somebody?
Cue Card
Describe a foreign country where you would like to work for a period of time. Please say
– What country would it be?
– What would you like to do there?
– Why do you want to go to this place?
Discussion
– What is so special about this country?
– Why do people choose going abroad to study or work?
– What are the advantages of working or studying abroad?
– Will it benefit you back in your country?
Get a self study book, for Academic click here, for General here.
Subscribe to IELTS-Blog.com via RSS or via email