Our kind friend C shared the Speaking questions from a recent IELTS exam in Singapore:
Speaking test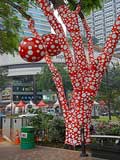 Interview
– What is your full name?
– Can I see your ID?
– Where are you from?
– Do you work or study?
– What do you do in your spare time?
– Do you like traditional performances, shows or dances?
– Do you watch news on TV or prefer to read it online?
– Are you interested more in international or local news?
Cue Card
Talk about a TV program or a show that you saw lately. Please say
– What was it?
– How did you feel about it?
– Would you recommend it to others?
Discussion
– Are there many performances in your country?
– Do you think young people like to watch traditional performances?
– How can the government support local artists?
Get a self study book, for Academic click here, for General here.
Subscribe to IELTS-Blog.com via RSS or via email