These speaking questions were shared by N who took the IELTS test in Malaysia:
Speaking test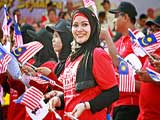 Interview
– What is your full name?
– Can I see your ID?
– Where are you from?
– Do you work or study?
– Why did you choose this subject to study?
– Are there many rainy days in your country?
– When do you have the most of rain fall in your country?
– Do you think that rain causes any problems?
– Has the weather changed for the past ten years in your country?
Cue Card
Talk about an occasion when you met a friend that you did not see for a long time. Please say
– Where and when did it happen?
– What did you do together?
– How did you feel about it?
Discussion
– What do you think about old friends' gatherings?
– Why do some people choose not to participate these gatherings?
– What do you think friends are for?
– What is the difference between meeting former friends in person or online?
Get a self study book, for Academic click here, for General here.
Subscribe to IELTS-Blog.com via RSS or via email