The following questions were shared by R who recently took the IELTS test in Iran.
Speaking test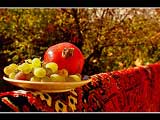 Interview
– What is your full name?
– Can I see your ID, please?
– Where are you from?
– Do you live in a house or an apartment?
– Which part of your house do you like the most? Why?
– What makes your house pleasant?
– Do you like sports?
– Describe the kind of spots people do in your country. Why?
– Have you ever tried any sport?
– Do you think sport affects the person doing it?
– Is there any sport you would like to try?
Cue Card
Describe how you usually communicate with your friends. Please say:
– Are you communicating by phone, letters or e-mails?
– What are the advantages and disadvantages of these ways?
– Do your friends agree with this way of communication?
– Which way do they prefer?
Discussion
– Compare letter-writing nowadays and 100 years ago.
– What do you think about the future of letter-writing?
Get a self study book, for Academic click here, for General here.
Subscribe to IELTS-Blog.com via RSS or via email