IELTS is known to be a demanding test, and getting a high score takes strategy, planning, self-discipline and work. But when your IELTS certificate arrives and the score you wanted is on it, that gives you a feeling that's hard to describe!
Theodore Isaac Rubin once said, "Happiness does not come from doing easy work, but from the afterglow of satisfaction that comes after the achievement of a difficult task that demanded our best."
Today we are proud to announce the winners of August round of IELTS results competition, who felt exactly that kind of happiness.
Academic Module – 1st place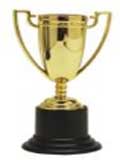 Sneh Mahesh from India, Band 7.5
Glenn Mauring from the Philippines, Band 7.5
General Training Module – 1st place
Tina Adel from Iran, Band 7.5
Congratulations to Sneh and Tina! To celebrate these wonderful achievements we are sending some special certificates to our winners' emails. The winning IELTS results will be displayed in the IELTS-Blog hall of fame – if you won, please feel free to show off to your family and friends!
And now we'd like to tell everyone how this IELTS results competition started 11 (yes, eleven!) years ago. The main idea behind it was to connect test takers who did well with everyone else who is preparing for IELTS. Winners have obviously done a lot of things right, and by sharing their tips, 'secrets' and advice they enable thousands of others to achieve great results in IELTS. IELTS-Blog.com is proud to be the channel through which the experience and wisdom of high scorers can be spread all over the world.
So if YOU got a high score in IELTS, no matter when – this month, last month, a few months ago – we want to hear from you! We would like to extend our warm invitation to everyone who is happy with their IELTS score. Take part in our IELTS results competition today, and share your IELTS tips when you win!