As many of you know, we have a tradition of asking the winners of IELTS Results Competition what helped them score so well. Why do we do that? So that everyone could benefit from their experience – if it worked for them, it might work for you!
Today we are delighted to share what we found out from the two recent winners:
Satinder Singh, Band 8.5 in General Training IELTS

Satinder lives in India. He got IELTS Band 8.5 with an amazing 9 in the Listening test, and won in our IELTS Results Competition in May.
In his winner's interview Satinder said,
"I am really overwhelmed by accepting your appreciation certificate, and I am happy to share my experience with other IELTS aspirants as well. I would like to share the following points:
Thorough understanding of public bands descriptors is a must to score well in speaking and writing.
Those who aspire to get more than Band 7 in the writing module will need to write each sentence with a purpose. Writing just for the sake of filling paper will not fetch the desired score.
Getting Band 7 in Speaking is easy, if there are minimal gaps in communication or hindrance to your speech, but to score higher than that, the intonation of your voice plays a vital role. Work on your tone and pronunciation.
To get Band 9 in Listening, students have to use their spare time during the test between the sections to read the upcoming questions for the next section. This will give you an edge over others – but make sure to read the upcoming questions with great concentration.
Reading results are truly an outcome of practice.
Kundai Nhongo, Band 7.5 in Academic IELTS.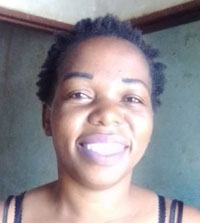 Kundai lives in Zimbabwe. She got Band 7.5 in IELTS, it was her first attempt and she had less than 3 weeks to prepare. Kundai was aiming at Band 8, and she got pretty close! As they say, "Shoot for the moon. Even if you miss, you'll land among the stars".
Kundai credits her success to the book 'Target Band 7' that she used during her exam preparation. She said,
"When I opened the book 'Target Band 7', and read through the first few pages, my confidence was boosted 135%, I tell you. Then the practice exercises were just but excellent, captivating, demanding – but very, very rewarding. I am so happy, I am now working on my registration with Social Work England, and I know that in no time, I will be in the UK.
Your book, your advice, your tips, the skills, your encouragement… Your words… I do not have adequate words to express how grateful I am.
All the tips in 'Target Band 7' are soo practical and so true.
Thank you so much. I am telling all my friends about 'Target Band 7'."