September has given us the pleasure to announce 4 test takers who won in the IELTS Results Competition. These lovely people will always remember September 2018 as the month they finally conquered IELTS. It's unusual for us to only receive Academic IELTS entries to the competition – for some reason no General Training candidates participated in September, but we do hope to get more participants in October! Remember – this competition is open for everyone, and any IELTS score, however big or small, has a chance to win.
Let's give our September winners a round of applause:
Academic Module – 1st place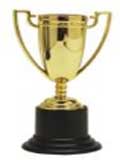 Manpreet Kaur from India, Band 7.5
Shahin Sultana Eity from Bangladesh, Band 7.5
Academic Module – 2nd place
Sahil Bhatti from India, Band 6.5
Simran Chawla from India, Band 6.5
Congratulations to the winners! Your success is a direct consequence of your determination, dedication and hard work. As a token of our appreciation we are sending your certificates of achievement to your emails. Winning IELTS results will be displayed in the IELTS-Blog hall of fame – so if you won, please feel free to show them off to your friends!
Well, what does it take to get a high score in IELTS? How do you make it happen? If anyone can answer these questions, our winners can!
So, we hope to hear from the winners the stories of how they prepared and studied, and what helped them achieve success in IELTS. Anything they wish to share will be posted on IELTS-Blog without delay, so everyone can use the same technique and get a better score in their own exam this month.
P.S. IELTS results competition runs every month, and everyone is welcome to participate. Learn how to enroll here.