If you've looked at the latest report on test taker performance released by the IELTS organization, you've noticed that most countries' mean band score is floating somewhere around Band 6. This fact highlights the achievement of the 10 people whose names I am about to reveal even more – because they received scores ranging from Band 7.5 to Band 8.5 in their IELTS exams, and won in our monthly IELTS results competition.
The winners in September 2012 are:
Academic Module – 1st place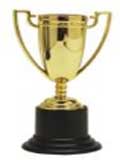 Bahar Ranjbaran from Iran, Band 8.5 (with Band 9 in both Listening and Reading)
Academic Module – 2nd place
Chirag Anil Patil from India, Band 8
Congita Melcure from India, Band 8
Roopa Siju Haridas from India, Band 8
Anvar Samandarov from Uzbekistan, Band 8
Academic Module – 3rd place
Ngog Thuy Pham from Vietnam, Band 7.5
Asif Ali from India, Band 7.5
Indu Narasappa from India, Band 7.5
General Training Module – 1st place
Sachin Vijayachandran from India, Band 8
General Training Module – 2nd place
Hazem Abdelmaksoud from Egypt, Band 7.5
Congratulations to the winners! To mark this special occasion we are sending your certificates of achievement to your emails, and your IELTS results will be displayed in the IELTS-Blog hall of fame.
And now, dear winners, I'd like to ask for your help – would you please tell us how you were able to do so well in the test? What were your methods of exam preparation? Your answers can help many other test takers do better in their exams.
Any suggestions from the winners will be shared right here on IELTS-Blog, and anyone subscribed to our daily updates will receive them via email.
P.S. IELTS results competition runs every month, and everyone is welcome to participate. Learn how to enroll here.
Get a self study book, for Academic click here, for General here.
Subscribe to IELTS-Blog.com via RSS or via email