For the first time in history of IELTS-Blog.com, completely unexpectedly, today we will be announcing a group of high scorers, where not one… not two… but five(!) winners split the second place in our monthly results competition. I know you can hardly wait – so here goes:
The winners in October 2012 are:
Academic Module – 1st place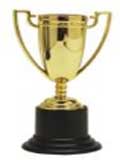 Shashank Rao Palety from India, Band 8.5
Academic Module – 2nd place
Satish Naik from India, Band 8 (with Band 9 in Listening)
Nattakarn Limphaibool from Thailand, Band 8
Vimal Selvarajan from India, Band 8
Miss K from Nepal (who asked to remain anonymous), Band 8
Hoang Phuc Duong from Vietnam, Band 8
Academic Module – 3rd place
Stefan Erdoglija from Serbia, Band 7.5
Deepthi Changaradil from India, Band 7.5
General Training Module – 1st place
Sandeep Godbole from India, Band 8.5
Congratulations to the winners! You have so much to celebrate. To make this a day to remember we are sending your certificates of achievement to your emails, and your IELTS results will be displayed in the IELTS-Blog hall of fame.
I look forward to hearing from the winners their stories of how they prepared and studied, and what helped them achieve success in IELTS. Anything they wish to share will be posted on IELTS-Blog without delay, so everyone can use the same technique and get a better score in their own exam this month.
P.S. IELTS results competition runs every month, and everyone is welcome to participate. Learn how to enroll here.