We are just about to present the 11 top scorers who won in our IELTS Results competition in June. All of them obviously managed to do a very good job of preparing for their exams. June's winners come from many different countries – Vietnam, India, Nigeria, Egypt, Iran – and seeing such great IELTS results being achieved all over the world is very encouraging.
Here are the proud owners of the best IELTS results in June:
Academic Module – 1st place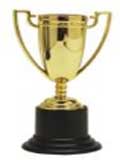 Hoang Nhan Huynh from Vietnam, Band 9
Academic Module – 2nd place
Nikita Desai from India, Band 8.5
Academic Module – 3rd place
Steffy Kurian from India, Band 8
Charles Obukwelu from Nigeria, Band 8
Rizwana Mashraque from India, Band 8
Yesha Anwar Amlani from India, Band 8
Mohammed Dallash from Egypt, Band 8
General Training Module – 1st place
Farzam Mousavi from Iran, Band 8
Tarun Arora from India, Band 8
Shobhit Bajaj from India, Band 8
General Training Module – 2nd place
Kaushal Thakkar from India, Band 7.5
Dear winners, we're applauding your efforts and sending your special certificates of achievement to your email addresses. Your IELTS results will be displayed in the IELTS-Blog hall of fame – please feel free to show off to your family and friends!
Something very unusual happened this month: Hoang Nhan from Vietnam got an outstanding Band 9 and raised the bar of excellence, which in turn pushed many test takers with great scores out of competition. But, even though technically they didn't win, we would still like to congratulate Cristal from the Philippines, Sajal from India, Nahid from Iran and Sultana from Bangladesh on achieving Band 7.5!
And now it remains to find out how these lucky people were able to score so well. We do know that Sultana Solaiman (Band 7.5) prepared using our book "Target Band 7", and also that Farzad Mousavi (Band 8) used "Ace the IELTS" book, but we want the details!
This is why we're asking all the winners to share their stories of how they prepared and studied, and what helped them achieve success in IELTS. Anything they wish to share will be posted on IELTS-Blog without delay, so everyone can use the same technique and get a better score in their own exam this month.
P.S. IELTS results competition runs every month, and everyone is welcome to participate. Learn how to enroll here.