Today we're happy to report that in April 12 people have won in the IELTS results competition. Here are the lucky owners of the great scores:
Academic Module – 1st place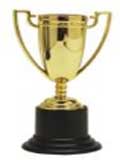 Felix Derilo from the Philippines, Band 8.5
Academic Module – 2nd place
Georgy Varghese from India, Band 8
Misbahu Haruna Ahmed from Nigeria, Band 8
Antonia Georgieva from Bulgaria, Band 8
Sarat Viswanadh from India, Band 8
Academic Module – 3rd place
Prasanna Krovidi from India, Band 7.5
General Training Module – 1st place
Shrividhya Uppuluri Aiyer from India, Band 8
Priyanka Chamoli from India, Band 8
Chanaka Muiyanselage from Sri Lanka, Band 8
Andrii Kyrychenko from Ukrain, Band 8
Sandra Chiaka Amasike from Nigeria, Band 8
Sruthi Viswanath from India, Band 8
It's a pleasure to see so many people achieve great results in their IELTS exams, congratulations to all the winners! On this special occasion we are sending your certificates of achievement to your emails, and your IELTS results will be displayed in the IELTS-Blog hall of fame.
One question we get asked all the time is, "How did they do it?" To tell you the truth all we know is that Shrividhya Uppuluri Aiyer (1st place winner in GT category) has been using the book "Ace the IELTS" in her exam preparation – but we'd love to hear from the other high achievers.
Dear winners, please share your stories. Tell us how you prepared and studied, and what helped you achieve success in IELTS. Anything you can share will be posted on IELTS-Blog without delay, so everyone can learn from you and get a better score in their own exam this month.
P.S. IELTS results competition runs every month, and everyone is welcome to participate. Learn how to enroll here.