We never forget how generous our readers are, because times and times again they remind us what a wonderful bunch of people visit IELTS-Blog.com. First they come here to study and ace their exams, and then they come back to help others!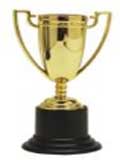 Today we are sharing with you the tips from Ujjwal, a winner of our July round of IELTS results competition. Ujjwal is from India and his mother tongue is Bengali. His Overall IELTS score is 8.5 with two perfect 9's for Reading and Speaking. Here is what Ujjwal recommends that you do to score high in IELTS.
Ujjwal said: "Thanks for the recognition. Please find my briefing on techniques and suggestions for scoring high in the IELTS.
Listening
This is a deceptively difficult part of IELTS. Thorough preparation is required in case you are not a very active listener. Over time, I learnt that a well thought strategy is required to master this part. My strategy was to practice in a test-like environment. I listened to audio recordings on a speaker and had a separate Question sheet and Answer sheet (I made printouts from online materials). Scanning the questions quickly and thoroughly is the key. I practiced this part a lot. A good week's practice and a constant score near your target score should help you sail through.
Reading
For this part reading newspapers and articles daily can make a difference. Paying attention to each part of the text is key. It is important to remember answers are taken from the texts in the section, so underline the key word(s) while reading. Dedicated test practice is required for at least 2-3 weeks for a perfect score (I was fortunate to get one!)
Writing
This is by far the most dreaded part of the test, especially if you are not a scholar in English or a writer. The key is to practice over and over using some known topics. Getting your written responses evaluated, such as with the help of IELTS-Blog.com can go a long way. My confidence and scores got a permanent boost with practice and evaluations from experts. Practicing on the list of broader 5-6 topics such as health, money, environment, education along with relevant vocabulary is key to scoring high in the essay section. Practice regularly to keep the word count close to 180 and 280 for writing task 1 and writing task 2 respectively.
Speaking
Having knowledge on a list of topics is a must for this section, however, what can make a difference to the score is your flow and overall delivery. Keeping it natural and friendly is key. Practice is required to open and conclude the responses. Long answers and higher speed of delivery can be detrimental. Just speak as you would to your colleague with the above points in mind and a desired score should be a cakewalk in this section. A point of caution, however, is it is subjective to an extent since it is evaluated by a human so practice is required to deliver your responses naturally, correctly and confidently."
We would like to thank Ujjwal once again for these tips, and wish him lots of success in the new chapter of his life!