Thanks to N who took the IELTS test in Malta we know this much about the recent topics and questions:
Listening test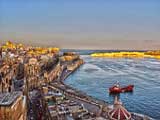 Section 1. About an outdoor activity center.
Section 2. Discussion about a play based on a novel, and how the novel is portrayed in the play.
Section 3, 4. Don't remember.
Reading test
Passage 1. About the driving test.
Passage 2. Safety rules and precautions for ladder use.
Passage 3. About a US exchange program.
Passage 4. About bears and their cubs.
Writing test
Writing task 1 (a letter)
Write a letter to your manager about a computer system problem that you have encountered and say
– Describe the problem.
– How is it affecting your work?
– What needs to be done about it?
Writing Task 2 (an essay)
Some people believe that children's success in adulthood is related to the way they have been raised by their parents. Do you agree or disagree? Give your own opinion and examples.
Get a self study book, for Academic click here, for General here.
Subscribe to IELTS-Blog.com via RSS or via email