Happy New Year 2012 to all the past and future IELTS test takers, as well as their teachers, trainers, examiners, family and friends!
Whether you are going to a party, or spending the New Year's Eve with family or friends at home, either way you surely will have a moment to yourself, to reflect on 2011.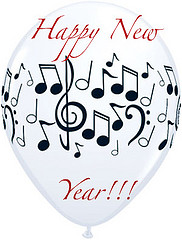 Was it a good year for you?
Just think: 365 days went by. If you had to name the biggest challenge of the whole year, what would it be? What was the most rewarding thing that happened to you in 2011? Did you make any new friends? Did you help anyone who needed you? And what was the most important thing you learned this year?
Since I started this reflection game, let me go first.
2011 wasn't a good year for me. It was an amazing year. So many great things happened, at work and at home, that I felt blessed almost every day.
The number of visitors to IELTS-Blog.com broke all last year's records. In 2011 we had almost 3 million visits, and over 11 million pages were downloaded. Our team grew in line with our audience – we simply had to get more people on board to keep up with you all!
The biggest challenge of 2011 was to find a way to continue providing the best and the quickest customer support, after my books' popularity kept on growing fast. I've been receiving emails non-stop from people who use my books to prepare for IELTS every day, and since there were too many for one person to handle, IELTS-Blog Helpdesk team came to my rescue. Together, we are happy to report that every single email we receive is answered within 12 hours at the latest – but normally much, much faster.
I can say with confidence that our teachers at the writing correction team have had the same challenge – keeping up with the demand. And they came out on top of it, every time. Thousands of essays, letters and reports were checked and returned to their happy owners in 2011 – quickly, accurately, and always with useful feedback. Thousands of test takers found a helping hand and raised their IELTS scores in 2011. Thank you, to everyone at Benchmark!
The most rewarding thing of 2011 was seeing the results of all the people who prepared with IELTS-Blog.com, and got their target scores in the real exam. It's really hard to describe the feeling I get when an email comes in and it says: "Simone, I've got great news – look at my score, its Band 8, and I only needed a 7.5!"
Yet another rewarding thing was working on a new IELTS book that will incorporate 6 years of research conducted through IELTS-Blog.com. If you are taking the IELTS test in 2012, keep an eye on your email – we will be announcing the new book in the New Year.
I've made a lot of new friends online, and had a chance to help test takers who needed some advice, preparation materials, or just a compassionate friend who can listen. There were also so many people willing to help me – by sending their exam updates, tips and advice for other IELTS candidates, by providing testimonials and their own stories for us to share with the whole community. I feel truly grateful for the chance to meet these kind folks, and appreciate their contribution to IELTS-Blog.com
And the most important thing I learned in 2011 is that dreams do come true, if you have a goal, a plan and the determination to follow through. I hope your dreams will come true in 2012.
Happy New Year 2011 from Simone Braverman and the whole IELTS-Blog team!