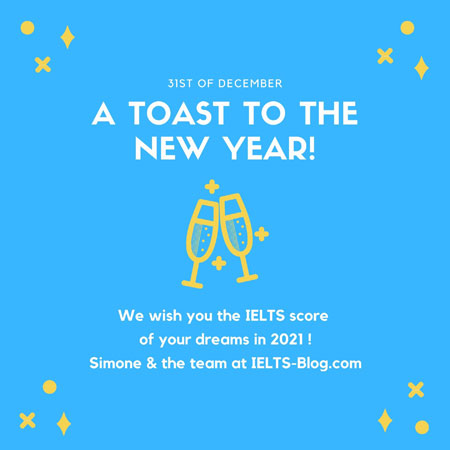 Hello everyone!
This is Simone – I created IELTS-Blog.com way back in 2005 and have been running it ever since.
How did I know that IELTS-Blog.com was needed? Because so many people have big dreams and ambitious goals, and IELTS is one obstacle that stands in their way. If only I could help them pass, they would reach their goals faster and start making the world a better place for all of us.
2020 showed us what isolation is like, and how hard it is to achieve anything in isolation. Winning takes a team, and IELTS-Blog.com is exactly that – it's your team, that exists to give you the tools and support to win the battle with IELTS. And in the last 15 years the number of winners with amazing IELTS scores exceeded my wildest dreams!
2020 was tough, but it wasn't all bad. It was the year we celebrated 5,000 subscribers on YouTube and 26,000 subscribers on Twitter, got active on Instagram and we are finishing the year with over 425,000 followers on Facebook. It feels great to be in touch with so many of you!
Everyone has a purpose in life. Mine is to help you. I'm here to show you how to tackle IELTS and get your target score. How to prepare and take the exam without stress and with confidence. How to get through IELTS faster, so that you can start living your dream life sooner.
On this day exactly one year ago, I wished for a life-changing year… and it was, just not the way I intended 🙂 Instead of progress, most of us experienced setbacks. Instead of thriving, we were busy surviving. So today I hope 2021 will make up for it!
Dear test takers, I wish you the IELTS score of your dreams in the New Year. Dear teachers and IELTS trainers – I hope that your students do you proud! You can count on our help in 2021, just like in the past 15 years. There will be new books, new practice tests and new IELTS services. Keep coming back – we'll make it worth your while.
Thank you for sticking with us in 2020. Thank you for your friendship and kindness, for your feedback and ideas, for sharing your knowledge and for spreading the word about IELTS-Blog.com.
May 2021 be YOUR year.
Love,
Simone and the IELTS-Blog.com team.