Our friend J took the IELTS test in Singapore and remembered the following Writing and Speaking questions:
Writing test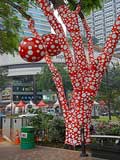 Writing task 1 (a letter)
Write a letter to a college headmaster asking him/her about financial support for one of the courses that you are really keen on doing. In your letter
– Give details of the course.
– Why are you interested in this particular course?
– What is the reason for requesting financial support?
Writing Task 2 (an essay)
Nowadays many historic buildings receive lack of preservation treatment, with some buildings being damaged or even destroyed. Why is this happening? What can be done to change this situation?
Speaking test
Interview
– What is your full name?
– Can I see your ID?
– Where are you from?
– Do you work or study?
– What subject are you studying?
Cue Card
Talk about a song that you liked in the past. Please say
– What was the song?
– Why did you like it?
– Do you still listen to it?
Discussion
– What modern artists do you know?
– Do you like them? Why?
– What are the advantages and disadvantages of the Internet for them?
– What do you think about online piracy and publicity?
Get a self study book, for Academic click here, for General here.
Subscribe to IELTS-Blog.com via RSS or via email