We received the IELTS test questions below from Kuwait (thanks to O for sharing!):
Writing test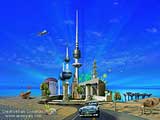 Writing task 1 (a letter)
You have recently bought a toy online and after receiving it you discovered a problem with it. Write a letter to the online store you bought it from, and say
– Describe the toy.
– Explain the problem.
– Suggest how it could be solved.
Writing Task 2 (an essay)
Some people say that TV advertisements have benefits, while others believe the opposite. Discuss both views, give your own opinion and include examples from your experience.
Speaking test
Interview
– What is your full name?
– Can I see your ID?
– Where are you from?
– Do you work or study?
– What do you do?
– Where do you live now?
– Is it a house or an apartment?
– What is your favourite room at your place?
– Do you like plants?
– Do you have any pants at home?
– What activities do you do out of home?
– What indoor activities do you like?
– What outdoor activity would you like to do in the future?
Cue Card
Talk about your favorite website. Please say
– What is it?
– What is it about?
– How often do you use it? Why?
Discussion
– How did you know about it?
– Why do you like it?
– Is it useful for others? Why?
– Do you know people who use this website?
– Why do you think entertainment websites are popular?
– Do you think people prefer to watch films or news on TV or the Internet?
– Do you think people prefer to get news from the Internet or newspapers?
– Do you think there will be libraries in the future?
– Is the Internet important in schools in your country?
Get a self study book, for Academic click here, for General here.
Subscribe to IELTS-Blog.com via RSS or via email