An IELTS test taker from Argentina (thanks, P!) shared the details of his recent IELTS exam:
Listening test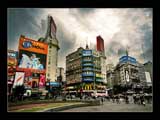 Section 1, 2. Don't remember.
Section 3. Two students and the director were talking about ways to improve the university library.
Section 4. A presenter was giving tips to the audience on how to make a good public speech.
Reading test
Passage 1. About glaciation timeline, ice age and the glaciers today.
Passage 2,3,4. Don't remember.
Writing test
Writing task 1 (a letter)
You have recently ordered a book online, but the book was delayed and has not arrived yet. Write a letter to the manager of the company
– Give full details of your order.
– Explain why you need the book urgently.
– Suggest a solution for the situation.
Writing Task 2 (an essay)
The best way of motivating workers or encouraging employees to improve their performance is to pay them according to the amount of sales or products they produced. Do you agree or disagree? What other ways would you suggest?
Speaking test
Interview
– What is your full name?
– Can I see your ID?
– Where are you from?
– Do you work or study?
– Do you live in a house or an apartment?
– Describe your apartment.
– What do you like the most about your apartment?
– Why would you like to live in a house?
– Have you ever been on a boat?
Cue Card
Talk about a situation where you helped someone. Please say
– Whom have you helped?
– When did you do it?
– How did you feel after that?
– Explain why you have made a decision to help him/her.
Discussion
– What are the advantages and disadvantages of volunteering work in you country?
– What important values have you got from your parents?
Get a self study book, for Academic click here, for General here.
Subscribe to IELTS-Blog.com via RSS or via email