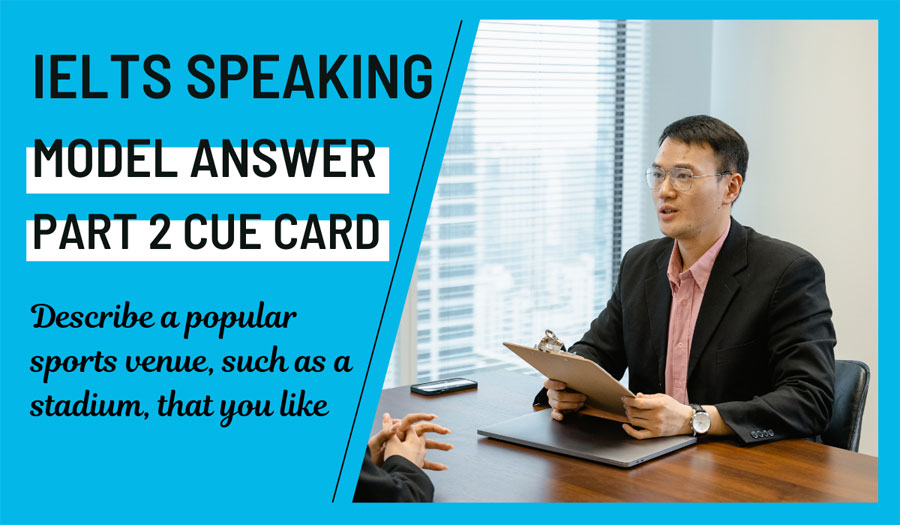 Here is a high-scoring Speaking Test Part 2 model answer for the cue card that was shared by a student from Vietnam. The answer shows a good way to respond to this question. You can find the answers in the other parts here: Part 1, Part 3.
NEW! In this podcast episode you can LISTEN to the answer. It's great to improve your pronunciation, intonation and overall fluency!
Or you can listen on YouTube (turn subtitles on):
Speaking test
Part 2 (Cue Card)
Talk about a popular sports venue, such as a stadium, that you like. You should say
– why it is popular
– what sports are played there
– whether or not you visited it
– and explain why you like this sports venue.
Answer
There is one popular sports venue that I admire, and it's the Wembley Stadium in London. The Wembley Stadium is known for hosting some of the most iconic and exciting sporting events around the world. From football to rugby, athletics to boxing, this stadium has long been the epicentre of some historical sports moments.
The stadium first opened in 2007, replacing the old Wembley Stadium, which was demolished in 2002. It's now the largest stadium in the UK and the second-largest in Europe.
The Wembley Stadium is primarily known for football, with the England national team playing their home games there. It has hosted many significant football competitions, including the FA Cup Final and the UEFA Champions League Final. Not only does it host the best football teams from around the world, but it also hosts musical concerts, contributing to its status as an iconic venue.
The atmosphere, the energy, and electricity of the crowd on match days are unparalleled, making it an experience of a lifetime. It doesn't just provide the best possible experience for sports lovers, but it is a source of national pride, celebrated by people from all walks of life. The Wembley Stadium is a fantastic place to watch your favourite team win, and without any doubt deserves its place as one of the most beloved sports venues globally.
Read more model answers on the VIP Club website