The IELTS speaking questions below were shared by A (thank you!) who took his exam in Mumbai, India.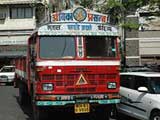 Speaking test
Interview
– Please introduce yourself.
– Are you working or studying?
– What kind of work do you do?
– What are your job responsibilities?
– What do you like or dislike about your work?
– Was it difficult to find your current job?
– Do you have a mobile phone?
– Do you think we are using them more today then a few years back?
– Do you think our dependency on mobile phones will grow in the future?
– Can you tell me for which purpose are mobiles extremely useful?
– Have you ever had a problem with your mobile while traveling?
Cue Card
Talk about two people from the same family. Please say
– What do they look like?
– How similar are these two persons?
– How much time do they spend together?
– Why did you choose to talk about these two persons?
Discussion
– How many languages do you know?
– Which language would you like to learn, and why?
– What are the advantages of learning another language?
– How can a person learn a language on their own?
– What difficulties might one face in learning a foreign language?
Get a self study book, for Academic click here, for General here.
Subscribe to IELTS-Blog.com via RSS or via email