To complete the IELTS exam in Algeria posted on Friday, here comes its Speaking section:
Speaking test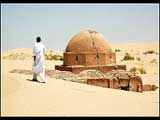 Interview
– What is your name?
– Do you study or work?
– What are the main tasks in your job?
– Do you like doing sport exercises?
– What is the impact of exercising on health?
– Do you like going on holidays?
– Describe a place you like to go to during your holidays.
– What is the most interesting place you wish to visit on your holidays?
Cue Card
Talk about a TV program you have watched. Please say
– What is this program?
– When did you watch it?
– What did you learn from it?
Discussion
– Let's talk about celebrities and famous people.
– What do TV program makers gain from famous people?
– How can you describe famous people's life?
– What are the problems that famous people may face?

Get a self study book, for Academic click here, for General here.
Subscribe to IELTS-Blog.com via RSS or via email