May brought us 6 winners who received great IELTS results ranging from a modest Band 6.5 to an impressive Band 8.5! With great pleasure and pride we present the successful test takers:
Academic Module – 1st place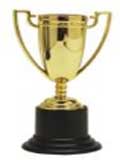 Satish Chandra Prasad from India, Band 8.5
Rojelle Sasi Icamina from the Philippines, Band 8.5
Academic Module – 2nd place
Uroljon Khidirboev from Uzbekistan, Band 7.5
Academic Module – 3rd place
Ajay Anand from India, Band 6.5
General Training Module – 1st place
Nitin Nigam from India, Band 8.5
General Training Module – 2nd place
Ruchira Mishra from India, Band 8
Congratulations to the winners! A day like this should be remembered – and so we are sending your certificates of achievement to your emails. Your IELTS results will be displayed in the IELTS-Blog hall of fame – please feel free to show off to your friends!
The big question on everyone's mind now is "How did they do it?", but only our winners can answer it. All we know is that Nitin studied with our book Ace the IELTS and Rojelle used our Writing Correction service to prepare (her IELTS story will be shared later on IELTS-Blog.com). So, this is a good start, but we could learn so much more from the actual advice of our winners, things they learned while preparing for their exams! We look forward to hearing the stories of how they studied, and what techniques helped them achieve success in IELTS. Anything they wish to share will be posted on IELTS-Blog without delay, so everyone can use the same technique and get a better score in their own exam this month.
P.S. IELTS results competition runs every month, and everyone is welcome to participate. Learn how to enroll here.