Today is the day we reveal the March winners of our IELTS Results competition. As the saying goes, "Your reap what you sow" and the seeds of success these 7 test takers sowed during their prep sessions grew into these fantastic scores!
Let us introduce the winners:
Academic Module – 1st place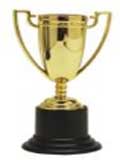 Saurab Mehra from India, Band 8
Academic Module – 2nd place
Jambalsuren Dovchindorj from Mongolia, Band 7
Academic Module – 3rd place
Ismael Nour from Canada, Band 6.5
General Training Module – 1st place
Srinithya Sundar from India, Band 8
General Training Module – 2nd place
Madhuri Yarlagadda from India, Band 7.5
Jigna Pradip Sutar from India, Band 7.5
Urvi Prakash Manohar from India, Band 7.5
Congratulations! We applaud the winners and send their certificates of achievement to their emails – let's make this day a little bit special. The winning IELTS results will be displayed in the IELTS-Blog hall of fame – if you won, please feel free to show off to your family and friends!
We should really find out how these lovely people were able to score so well. Some of them are our students, so we know they used our books – Saurab Mehra (Band 8) and Urvi Prakash Manohar (Band 7.5) used "Ace the IELTS", and Jambalsuren Dovchindorj (Band 7) used our writing correction service. But we definitely need to know more!
We hope to hear from the winners the stories of how they prepared and studied, and what helped them achieve success in IELTS. Anything they wish to share will be posted on IELTS-Blog without delay, so everyone can use the same technique and get a better score in their own exam this month.
P.S. IELTS results competition runs every month, and everyone is welcome to participate. Learn how to enroll here.