What a great feeling it is to finally reveal the 14 winners who received the best IELTS results in March. "Diversity" seems to be the best way to describe this group of high achievers, because they come from all over the world: Azerbaijan, India, Indonesia, Nigeria, Singapore, Sri Lanka, Uzbekistan and Zimbabwe. The one thing they have in common? Every single IELTS score is Band 7.5 or higher!
And the winners are:
Academic Module – 1st place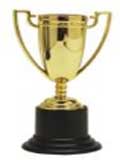 Ruying Kang from Singapore, Band 8.5
Academic Module – 2nd place
Anjas Karuniawan from Indonesia, Band 8
Sanjul Muralidhar from India, Band 8
Bekhruz Fatilloev from Uzbekistan, Band 8
Academic Module – 3rd place
Mihirani Devika Mkumarasinghe from Sri Lanka, Band 7.5
Leyla Khaspoladova from Azerbaijan, Band 7.5
Abiola Odeyinka from Nigeria, Band 7.5
General Training Module – 1st place
Roger Joseph George from India, Band 8.5
Quintin Munengami from Zimbabwe, Band 8.5
Jennifer Ravi from India, Band 8.5
General Training Module – 2nd place
Nikhil Pujar from India, Band 8
General Training Module – 3rd place
Shehani Karunanayake from Sri lanka, Band 7.5
Sanjeev Kumar Sablok from India, Band 7.5
Preetkamal Parmar from India, Band 7.5
Congratulations! We applaud the winners and send their certificates of achievement to their emails – let's make this day a little bit special. The winning IELTS results will be displayed in the IELTS-Blog hall of fame – if you won, please feel free to show off to your family and friends!
We should really find out how these lovely people were able to score so well. Some of them are our students, so we know they used our books – Roger George ( Band 8.5 ) and Nikhil Pujar (Band 8) used "Ace the IELTS", and Mihirani Mkumarasinghe and Leyla Khaspoladova (Band 7.5) used "Target Band 7". But we definitely need to know more!
We hope to hear from the winners the stories of how they prepared and studied, and what helped them achieve success in IELTS. Anything they wish to share will be posted on IELTS-Blog without delay, so everyone can use the same technique and get a better score in their own exam this month.
P.S. IELTS results competition runs every month, and everyone is welcome to participate. Learn how to enroll here.
Get a self study book, for Academic click here, for General here.
Subscribe to IELTS-Blog.com via RSS or via email