Today we're happy to present the 15 top scorers who won in our IELTS Results competition in June. It feels great to see that so many people managed to do a very good job of preparing for their exams.
And here are the proud owners of the best IELTS results in June:
Academic Module – 1st place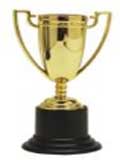 Nathaniel Chandra Harjanto from Indonesia, Band 8.5
A L Sachindra Marlon Dharmasiri from Sri Lanka, Band 8.5
Mareike Gertrud Simon from Germany, Band 8.5
Academic Module – 2nd place
Oseghale Aisu Eboiyehi from Nigeria, Band 8
Hanie Anaraki from Iran, Band 8
Tarrannum Masood from India, Band 8
Academic Module – 3rd place
Elizabeth Ebunife Adelore from Nigeria, Band 7.5
General Training Module – 1st place
Syed Abdul Gaffoor from India, Band 8.5
Abhijeet Ghosh from India, Band 8.5
Anand Chaudhari from India, Band 8.5
General Training Module – 2nd place
Harsimran Singh Anand from India, Band 8
Andy Williamson Ong from the Philippines, Band 8
Suhail Khalid from Pakistan, Band 8
General Training Module – 3rd place
Mohamed Salem from Egypt, Band 7.5
Farhan Shahzad from Pakistan, Band 7.5
Dear winners, we're applauding your efforts and sending your special certificates of achievement to your emails. Your IELTS results will be displayed in the IELTS-Blog hall of fame – please feel free to show off to your family and friends!
And now it remains to find out how these lovely people were able to score so well. We do know that Hanie Anaraki and Tarrannum Masood (Band 8) prepared using our book "Target Band 7", and also that Elizabeth Ebunife Adelore (Band 7.5) prepared using the "IELTS Success Formula" book, but we want the details!
This is why we're asking all the winners to share their stories of how they prepared and studied, and what helped them achieve success in IELTS. Anything they wish to share will be posted on IELTS-Blog without delay, so everyone can use the same technique and get a better score in their own exam this month.
P.S. IELTS results competition runs every month, and everyone is welcome to participate. Learn how to enroll here.
Get a self study book, for Academic click here, for General here.
Subscribe to IELTS-Blog.com via RSS or via email