Ever heard of the proverb "A good beginning is half the battle"? It means that a good beginning is very important and if you keep moving in the right direction, your chances of success are great. Today we would like to congratulate 14 IELTS test takers who had a very good beginning to 2015. Their year started with a Band 7.5, 8 or 8.5 which made them the envy of their friends, and the pride of their families.
Let's put our hands together for the highest IELTS scorers of January 2015:
Academic Module – 1st place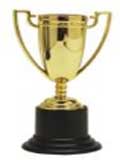 Natalie Cohen from Germany, Band 8
Tansha Anand from India, Band 8
Tinashe Gimani from Zimbabwe, Band 8
Academic Module – 2nd place
Ibrahim Elshazly from Egypt, Band 7.5
Uday Kiran Tiruvalluri from India, Band 7.5
Harendra Manoj De Zoysa from Sri Lanka, Band 7.5
Pauvsokheng Phauk from Cambodia, Band 7.5
Negin Forouzesh from Iran, Band 7.5
Nakul Dhingra from India, Band 7.5
Gupta Anchal from India, Band 7.5
General Training Module – 1st place
Michael Bassey Effiong from Nigeria, Band 8.5
General Training Module – 2nd place
Wei Yee Chong from Malaysia, Band 8
Jaideep Singh from India, Band 8
General Training Module – 3rd place
Arshpreet Singh from India, Band 7.5
Congratulations to the winners! As a token of our appreciation we are sending your certificates of achievement to your emails. Winning IELTS results will be displayed in the IELTS-Blog hall of fame – so if you won, please feel free to show them off to your friends!
If you are wondering how these people were able to achieve such wonderful results, you're not alone – many of our readers email us and ask this question. This is why we always contact the winners and ask for their tips and advice for other test takers. Anything they share we post on IELTS-Blog.com, so everyone can use the same technique and get a better score in their own exam this month.
I'm pleased to tell you that some of the winners used our IELTS materials and services to prepare for the exam: Michael Effiong used Ace the IELTS book, Tinashe Gimani used our practice tests, and Natalie Cohen used our Writing Correction service.
Meanwhile, we hope to hear from the other winners the stories of how they prepared and studied, and what helped them achieve success in IELTS.
P.S. IELTS results competition runs every month, and everyone is welcome to participate. Learn how to enroll here.