Prepare to be inspired, as we introduce to you the winners of IELTS Results competition in February 2020. Eight people from four countries (Australia, India, Iran and Zimbabwe) achieved the highest IELTS scores in the competition, ranging from Band 7.5 to 8.5. There were also some 9's in the individual sub-tests!
On behalf of the entire IELTS-Blog.com community, we would like to congratulate the following winners:
Academic Module – 1st place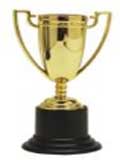 Heeru Ahuja from India, Band 8.5
Academic Module – 2nd place
Navid Farazmandnia from Iran, Band 8
Prajina Urva from India, Band 8
Academic Module – 3rd place
Convictions S Samunyaka from Zimbabwe, Band 7.5
Tahera Sultana from Australia, Band 7.5
General Training Module – 1st place
Ishita Dhada from India, Band 8
Murali Bomma from India, Band 8
Jhansi Kona from India, Band 8
Congratulations on doing so well in your exams! As a token of our appreciation we are sending your certificates of achievement to your emails. Winning IELTS results will be displayed in the IELTS-Blog hall of fame – so if you won, please feel free to show them off to your friends!
How did they score so well?
We're very happy to report that two of the winners (Heeru Ahuja, Band 8.5 and Ishita Dhada, Band 8) used our IELTS practice tests to prepare for the exam. Dr. Dhada found the practice tests instrumental in her study, and said
"I am happy to share that this time I have received the required score. I have got an overall 8.0 band score ( L-9, R-8, W-7, S-7 ).
I am really grateful to you for all your help. The papers that you have designed always kept me a step ahead to face IELTS with more confidence. Moreover, I must say that IELTS-Blog.com has also played a profound role in terms of providing me with the latest writing and speaking questions to go through."
Tahera Sultana (Band 7.5) used our writing correction service while preparing for her exam, and Jhansi Kona (Band 8) signed up for our free daily emails with latest IELTS questions, tips, materials and advice.
As for the rest of the winners, we'd love to find out what IELTS books they used, how they prepared and studied, and what helped them achieve success in IELTS. Anything they wish to share will be posted on IELTS-Blog without delay, so everyone can use the same technique and get a better score in their own exam this month.
P.S. IELTS results competition runs every month, and everyone is welcome to participate. Learn how to enroll here.